Gas Gathering System For Sale




SAND SPRINGS PIPELINE, INC.
May, 2003



DESCRIPTION OF FACILITIES



A. GENERAL

The Sand Springs Pipeline is a gas gathering system located in Tulsa County, Oklahoma, and covers approximately ten square miles of coal seam gas production, natural gas production and associated gas production (See Exhibit 1). The system consists of two 10-inch low pressure gas gathering trunk lines. One line gathers gas north of the Arkansas River and the other gathers gas south of the river. The two low pressure lines transport gas to a stripper plant located on the north bank of the Arkansas River. The stripper plant compresses the gas, dehydrates, removes the LPG and transfers the processed gas into a sales pipeline. The sales pipeline transports gas 4.5 miles to a pipeline owned by Oklahoma Natural Gas Company.

The pipeline was completed and put into operation in March of 1986 with an initial throughput of 1.2MMcfd. The line was constructed in accordance with DOT Part 192 Title 49 and USAS B31.8 Codes.

The maximum allowable operating pressure for the 4-inch steel sales line is 1440 psig. The maximum allowable operating pressure for the low pressure plastic system is 125 psig.


B. LOW PRESSURE SYSTEM

The 10-inch plastic pipelines are provided with pig traps for onstream pigging operations. This provision will allow the removal of liquid buildup in the pipeline without shutting down the system.

Several 3-inch lateral plastic pipelines and meters are installed to gather gas from well sites.


C. STRIPPER PLANT

The stripper plant consists of a low pressure inlet separator that receives gas from the north and south 10-inch plastic systems. The separator discharges the gas into the compressor suction manifolds. The manifolds are equipped for three compressors. No compressors are onsite. The discharge manifold transports gas to a 1.5MMcfd dehydrator and then to a 5MMcfd LPG stripper plant.

A 30,000 gallon bullet tank is provided to store LPG from the stripper plant. Pumps, valves and hoses are onsite for tanker truck loading of LPG. A steel tank is also provided for drip gasoline from the separators and gasoline produced from the stripper plant. The site is fenced and provided with vehicle gates for access.


D. SALES LINES

The plant site is equipped to provide processed gas to three sales lines. One sales line is connected to the Acme Company. The second is the 6-inch river crossing to supply gas south of the Arkansas River and the third is a 4.5 mile, 4-inch pipeline to Oklahoma Natural Gas Company.

The 4-inch sales lines is located on the north bank of the river and is adjacent to several industrial end users in Sand Springs. The end users total sales volume is 6MMcfd. Sales tapes are in place for future sales.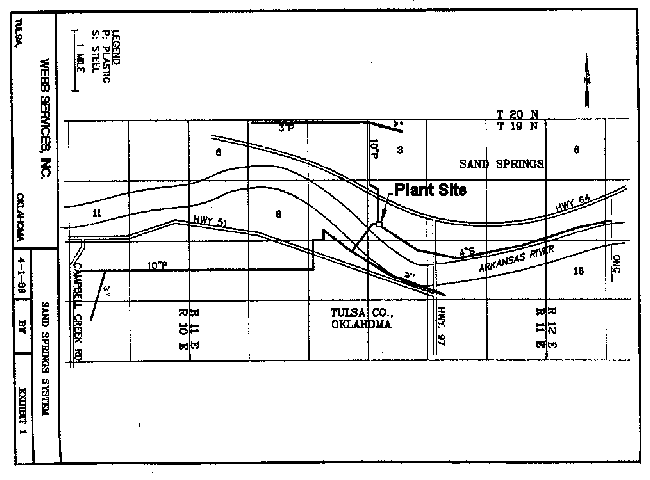 BKW, Inc.
P.O. Box 581611 Tulsa, OK 74158
---
Phone: 918.836.6767 Fax: 918.836.0141