BKW, Inc. is a World Leader in Pipeline Technology and Equipment
---
Tadpole Pig
BKW has developed and patented pigging equipment
that advances pigging into the 21st Century.
Tadpole Pig

A cleaning pig that goes through screwed 90 degree ells and tees.
BKW's patented Tadpole Pig as shown below demonstrates the Tadpole's ability to pass through tees with a minimum of blow by. The arrows indicate where the Tadpole seals against the pipe wall.
---
BKW's patented Tadpole Pig is shown progressing through a typical ell. The bottom picture indicates the Tadpole's sealing ability in a 90 degree ell using the trailer ball and steel brushes. The arrows indicate the location of sealing against the pipe wall.
---
BKW Tadpole Pig Features
The Tadpole Pig is designed to go through weld and threaded fittings without an increase in pressure drop. All pigs, including foam pigs, have to deform somewhat when going through fittings. This requires the pig to stop while waiting for an increase in pressure to push the pig through the fitting. The Tadpole Pig does not deform; therefore, the Tadpole Pig does not stop. This unique feature has advantages when filling or dewatering a line during hydrostatic testing, and is especially true for pipelines not designed for pigging.
The Tadpole Pig has a male thread on the tail for attaching anything that is required to perform a function inside a pipeline. This can be brushes, scrapers, cups, or magnets. It can even be used to pull smart pigs or cables. The male thread is connected to a female thread in the nose of the pig using a cable. The female thread can be used to attach a sizing plate, magnets, cable eyes or another Tadpole Pig.
The Tadpole Pig can be furnished with bypass holes for cleaning new pipelines or scraping wax and other films from pipe walls. This process will prevent buildup and possible plugging of the pipeline.
The Tadpole Pig is flexible and can penetrate pipe with large dents and buckles or travel through reduced opening valves.
The Tadpole Pig is easily adapted for multiple automatic pig launchers in remote pig launching operations, including deep water pipelines.
In addition to the Tadpole Pig, BKW furnishes pig traps, sealing and non-sealing pig switches, Y's for pigs or spheres, flow through tees, multiple automatic pig launchers, sphere launchers, pig trap trays, jib cranes and pig and sphere handling equipment.
BKW Tadpole Pig Accessories
Porcupine Pig
Porcupine Pig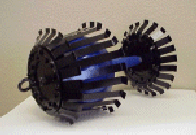 A scraping pig that cleans paraffin, wax, rust, sand, and other foreign objects from a pipeline
BKW, Inc. introduces the Porcupine Pig. This pig is designed for scraping pipelines. The Porcupine Pig is built on a Tadpole frame and will scrape paraffin, wax, rust, sand and anything else on the pipe walls. Adequate blow by will prevent build up around the pig.
BKW, Inc. specializes in custom solutions to pipeline problems as shown by the introduction of the Porcupine Pig.
Your problem is our challenge!
Contact us today for pricing and delivery dates.
BKW, Inc.
P.O. Box 581611 Tulsa, OK 74158
---
Phone: 918.836.6767 Fax: 918.836.0141