BKW was involved in the installation of three 2-mile long flow lines from shore to a production platform located in Cook Inlet, Alaska.

The flow lines consisted of 6" and 8" pipe that was pulled from a make-up yard onshore out to the platform and up through J-tubes to the sub floor.

The shore approach was HDD bored 1500 feet instead of cut because of environmental concerns.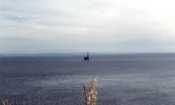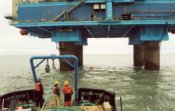 The tides were a maximum of 30 feet with 9-mile-per-hour currents allowing diver time to be limited to 10 minutes per 12 hours. Special underwater pulling equipment that was diver friendly had to be designed and fabricated.

Also, a 200,000 pound capacity chain jack had to be designed and fabricated to pull the flow lines through the J-tubes.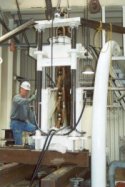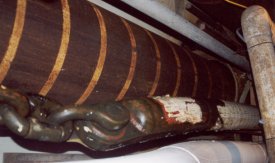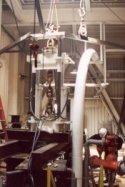 In addition to the offshore portion of the work, BKW designed and fabricated pig traps on the land portion of the project.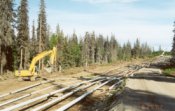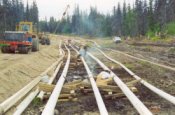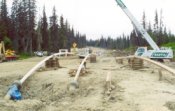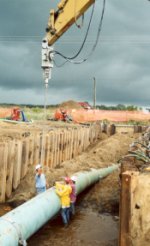 BKW became involved in the stabilization of a 36" pipeline located in Illinois and Wisconsin.

The pipeline crossed several miles of soil consisting of sugar sand and flotation became a problem.

BKW performed a soil survey using a Cat 330 backhoe and installed and tested anchors in the problem areas.

A coarse sand clay soil was encountered below the sugar sand that provided good hold down for auger anchors.



As a result of the survey, several miles of pipe were anchored using auger anchors instead of concrete set-on weights, thus saving the pipeline company several million dollars.
| | |
| --- | --- |
| | |
| Concrete Set-on Weights | BKW Auger Anchors |
The auger anchors provide the Contractor with more flexibility than concrete set-on weights because set-on weights require a deeper and wider ditch. When the Contractor digs the ditch and it is determined stabilization is required, the Contractor must re-dig the ditch to accommodate set-on weights. If auger anchors are available, the Contractor can lay the pipe without re-digging and install auger anchors post lay. This flexibility, along with lower initial cost, will provide the pipeline Company considerable cost savings.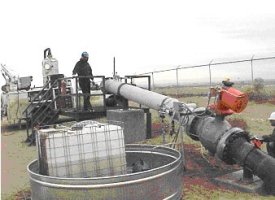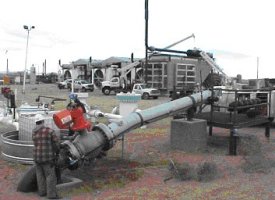 This 12-Inch ANSI 600 Ball Launcher using the BKW style rocker release system is located in Wyoming in a gas gathering system. The rocker release system on this job is automated with manual standby. The manual standby consists of disconnecting the gas piston from the rocker arm and using the rocker arm manually. BKW also manufactures a pin system for ball release or for vertical multiple pig launchers.